Inspirational and Expert Keynote Speaking
An engaging and dynamic speaker, Dr. Nicole Apelian is available for speaking engagements on a variety of topics. Nicole brings energy and inspiration to her audience and is an experienced keynote speaker for commencements, academic conferences, fundraisers, motivational seminars, workshops and more. Please contact us for rates and booking. Topics include:
Tales from the Kalahari
Nicole shares captivating stories about her experiences in Southern Africa as a biologist and lion researcher, expeditionary leader, safari guide, traditional skills instructor and from her time spent working closely with the San Bushmen of Botswana. Nicole can speak from her expertise to a wide range of audiences and interests from school groups to academic, NGO and governmental organizations.
Personal Health and Wellness
Diagnosed with multiple sclerosis in 2000, Nicole shares her inspiring journey from bed-ridden and suffering with disease to making changes to her perspective and lifestyle, which enabled her to move on to the healthy, thriving life she lives today.
Wilderness Living & Survival Skills
Nicole speaks from her passion and expertise as a wilderness living instructor and shares stories from her own personal survival experiences, including tales from her time on the History Channel reality series "Alone".
Nicole has spoken at a variety of events and venues
Nicole Apelian holds a Ph.D. in Cultural Anthropology within the field of Sustainability Education, is an instructor and graduate advisor at Prescott College and is the co-founder and CEO of Eco Tours International, where she serves as a guide and an African ecotourism and ethnobotany consultant.
Previous events include: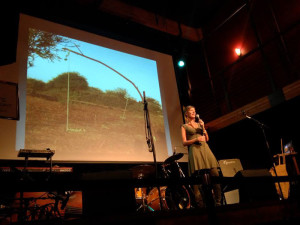 US Speaker Program
Symposium on Experiential Education, Denver, CO