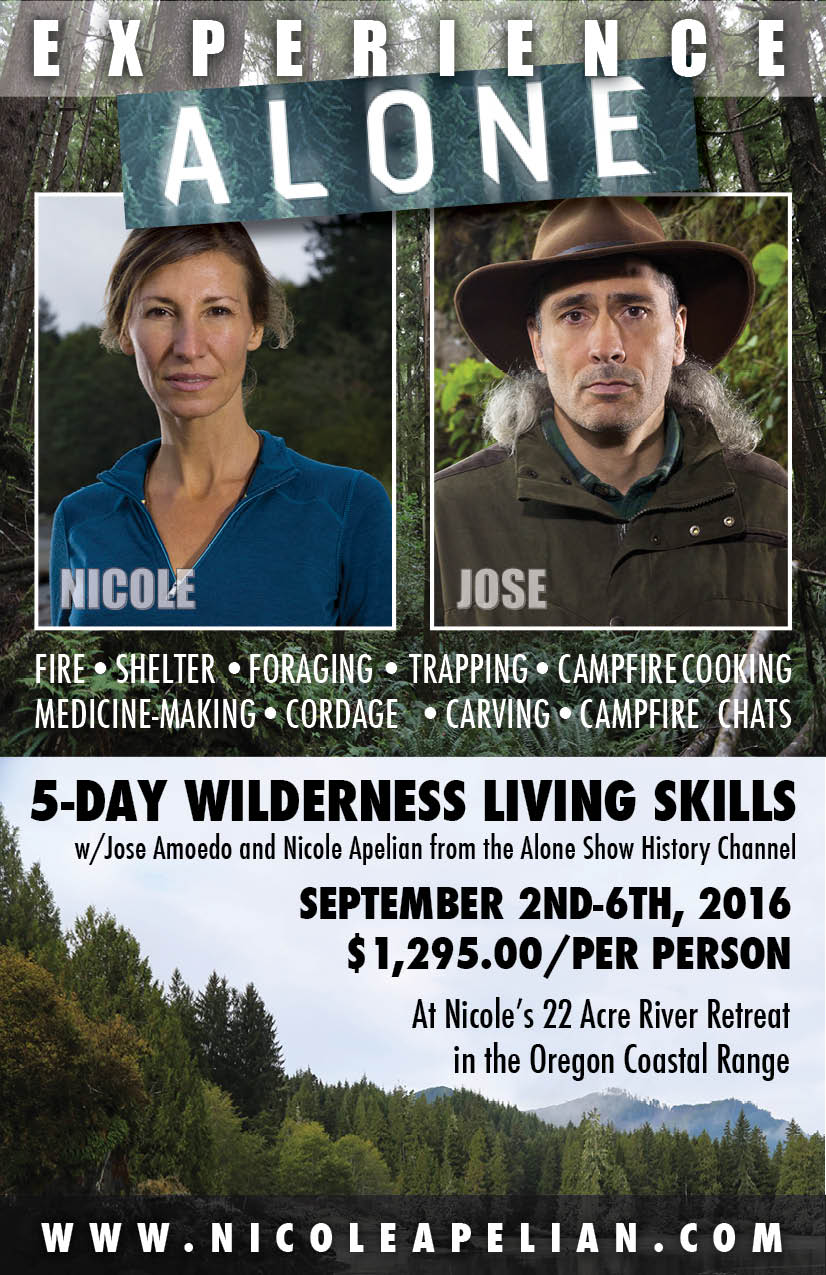 Join Jose Amoedo and Nicole Apelian from the Alone Show on History Channel for a 5-Day Wilderness Living Skills Experience!
Want to experience what it takes to be Alone in the woods for the long-term? Join Nicole and Jose from the hit TV show Alone for this 5-day workshop and learn the skills we used to survive and thrive alone for 2 months on Vancouver Island. You will have the opportunity to ask us your questions about how we thrived using wilderness living skills, all while doing hands-on skills-based projects.
This workshop takes place in the Oregon coastal range at Nicole's home and land near Nehalem, Oregon – Soapstone Woodland Retreat. Only 15 minutes from the beach, my property has a river that runs through it and offers a similar setting to Vancouver Island on 22 acres of private land.
Dates: September 2nd-6th, 2016
Cost: $1,295.00/per person • All food included
Accommodations: Camping with bathrooms available for showers, etc.
Prerequisites: None
Beyond the basics of survival, you will also learn:
Foraging: we will forage for food as well as medicine in the woods and at the beach
Trapping: deadfall and snares
Campfire Cooking
Medicine-making: take home your own handcrafted salves
Fire: We will make fire using flint and steel, ferro rod and the bowdrill
Shelter: Build your own shelter (and try it out solo for a night!) using different techniques like an A-frame debris hut and a lean-to shelter. Learn how to stay warm in an emergency situation and how to avoid hypothermia.
Cordage: make rope from natural materials
Carving: Try your hand at making your own burn bowl and fireblower too!
Campfire Chats: about how we thrived on Vancouver Island and our mindset behind wilderness living
Wilderness Living skills differ from survival skills in that the first is a knowledge-based way of living in ongoing harmony with the natural world.
Survival Living is inherently an acute, short-term perspective; it is a strategy best applied for when you get lost or hurt and need to find a way to survive through difficulty until you can get rescued.
Wilderness living takes practice— it is how we as humans have lived and thrived for eons in a sustainable way, the way that many indigenous cultures still live today. It is a natural way of living as a part of nature. If you want to learn how to get back to your roots of connection, this workshop is the place to start.
ONLINE REGISTRATION COMING SOON
Only 12 spots available for this incredible opportunity.
Email Nicole to reserve your spot today!